Vending machine makers coining lots of change
From downsizing equipment for new markets to minting a dollar for customer ease, this appliance-industry segment is going through a transformation. Some traditional markets for the $603-million vending-machine business are eroding, challenging manufacturers to hoist their creative antennae.
One mainstay for vending equipment has been the large automobile plant. Today, employment is dropping at these locations.
Two additional strongholds, hospitals and higher educational institutions, are experiencing declines. With fewer patients as a result of cost controls and fewer students as a result of demographic changes, the number of these feeding stations is shrinking, and sales at the remaining institutions are seen dropping.
To make up for losses from these large customers, the vending-machine manufacturer is pursuing smaller, more dispersed markets,' many with no more than 50 people to 75 people. Although the numbers are small, these people want vending.
One way the manufacturer is justifying his investment in these markets is by installing downsized equipment. At the same time, the machines meet market demand.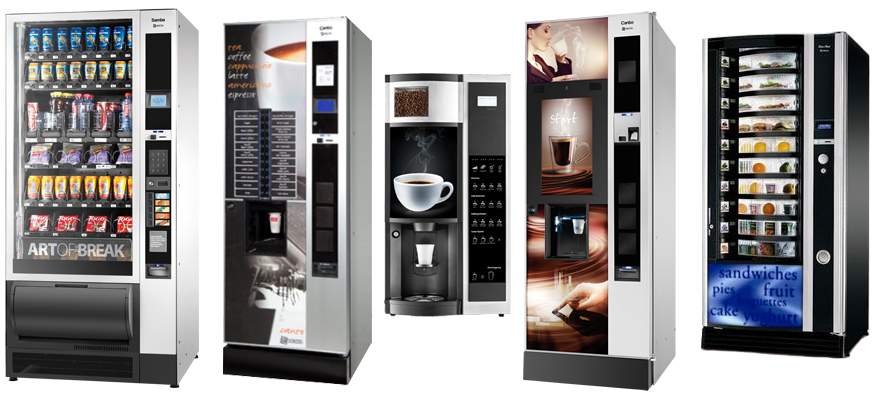 Downsizing takes on a number of forms. At its simplest, the machine stocks one item less in each column. At its more complex, the equipment is retrofitted. For instance, a sleeve in a candy machine is changed to accommodate a plastic container with soup, beef stew, macaroni and cheese, or similar item. The container is ready for the microwave.
Low-tech, or mechanical twist-type, knobs in six-item units is another candidate for the smaller market. But low tech hasn't caught on.
In some cases, completely new equipment is designed and manufactured for smaller markets. Some of these machines are designed specifically to be serviced by untrained persons on location. Simplified controls, ease of restocking, and minimum maintenance are among design characteristics.
Cooperative Service Vending (CSV) is a program whereby a person on location is trained for restocking the machine and to handle minor maintenance. The driver comes less often but brings more product.
Mini-mart
Whether serving a large or small market, the vending machine is growing more versatile. It's becoming a veritable mini-mart.
A combination, or multi-product, machine may typically dispense snacks, cold drinks and coffee. All three work off one set of electronic brains.
Electronics is growing in use by most manufacturers. Touch-pad controls and the like are fairly common. But other opportunities are being pursued.
Among them are readout displays, programmed to give selling messages to customers and maintenance messages to vending operators.
A sales message might read: Do you want a soda to go with your chips?
Maintenance readouts could include information such as total amount deposited and inventory on hand.
Data collection is in its infancy, with universal standards needed. But here's how it would work. Hand-held information devices, going under names such as "data logger" or interogator," would give detailed information on what is sold and when. More advanced hand-held computer devices, recording the same information, could dump the data electronically in the computer at the vending operator's home office.
All this talk about electronics brings us to the talking vending machine. Believe it or not, Coca-Cola had such a machine in the early 1940s, with the talk coming from a phonograph record. "Thank you for your purchase" was the message. The vending operator tried to charge a nickel more per coke. For more on talking machines, see the photograph.
The future for talk boils down to economics. If the machine maker can add talk capability for little investment, then talking machines may come on. But even if they catch on, growth is seen as gradual. Electronic meal ticket
Is cashless vending in your future? Some machines are in test to determine ease of customer transaction.
Sold by the vending operator, cards replacing cash work on debit. Each time the card is used, the amount is deducted. The card could be designed to add value by inserting it into a special dispenser device.
Theoretically, the card could act in a greater capacity than an electronic meal ticket. In the work place, it could serve as an ID card with laminated photo, time card, and key card.
One-dollar coin
Cash is still very much in the picture, as Congress is considering legislation for a one-dollar coin. The coin would be the same size as that of the Susan B. Anthony, which did not work. The coin was too easily confused with a quarter. The proposed coin would be smooth rimmed and shiny gold.
An additional proposal calls for the cessation of printing the one-dollar bill 18 months after the coin is introduced.
No discussion about vending would be complete without tasting the coffee which, according to a study five years ago, was not very tasty. Customers generally had a poor image of vended coffee. They perceived the coffee sitting in a pot encased in the machine.
To get the fresh-brewed story across, signage and graphics were introduced. Signage reads: This Cup Freshly Brewed for You. Graphics show whole beans in a window at the top of the machine to convey the fresh-ground story.
Vended coffee, today, accounts for nearly 10 percent of the $21-billion in vending sales.